When you're considering where to buy a home, there are many factors and logistics at play. We recently got together with one of our Bardwell clients who is a part of a community affectionately referred to as "The Rouzan Ladies" by our team. She helped put words to the impact that your community can have on your lifestyle and daily joys! So, we'll let her do the talking.
When asked how she chose Rouzan as her community when searching for a home, she said "I liked the location and the concept of the neighborhood. I wanted to be able to go up to the club house and the farm, which are just lovely. And the library is going to be here soon. I could tell it was going to be lovely and well kept- that's how I picked it originally. But then when I moved in, people were walking and riding bicycles out and about- and they were just so friendly. We've got a great mix of people, which is important to me too- there's 5 babies just within a block of me, but lots of younger people, older people, single people and families."
This sweet client decided to go with the pre-sold process, a unique semi-custom approach to new construction offered by Bardwell. "I picked my lot and floorplan, and I got to make some changes and selections to be exactly what I wanted it to be. Once we decided on Bardwell as the builder, they could not have been more wonderful to work with. It was so easy, because most of the things you pick out are with the help of a decorator if I wanted it. They are just as easy once you've moved in to work with also."
We wanted to sit down with this client because a really beautiful part of her story is the community that she has cultivated with her neighbors. After moving to Rouzan, she loved it so much that she began recruiting others! "When I moved, I was telling other friends about the neighborhood, and they decided to move here too. I've got a daughter that lives in Houston and friends in other parts of the country, and it makes you feel good about it when they come visit and say that there's nothing like this community where they are. You know it's really something special."
This client brought along some old friends and made some new ones too. The key to forming these new relationships? She says "Sit on your front porch and visit with people as they walk by. People are really friendly here!"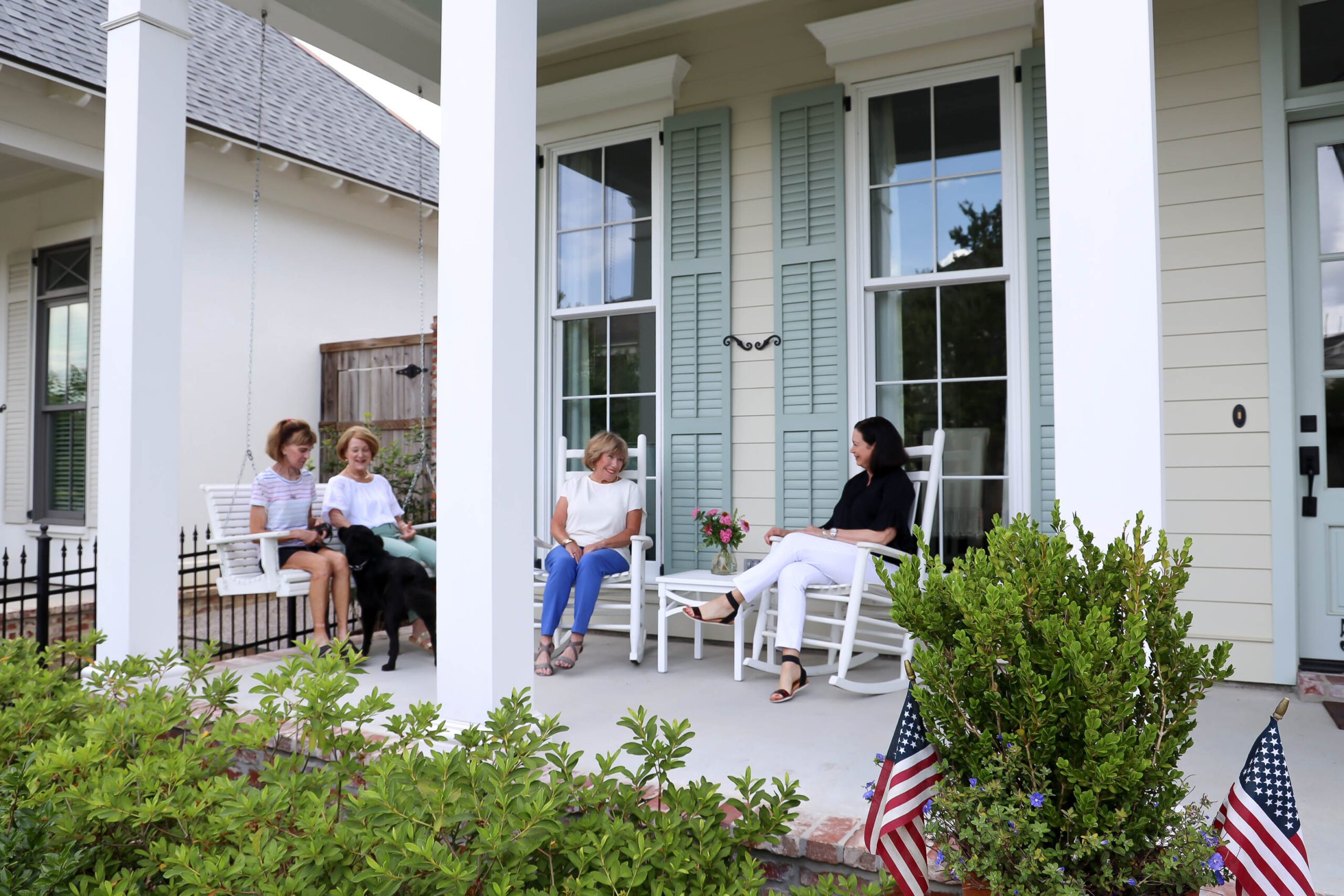 When we asked her what kinds of things they do together, the list was long. The Rouzan Ladies have a regular routine of time together. They enjoy gathering with their spouses and other residents on Friday evenings for cocktail hour by the pool or in the gardens. "We sit and visit for about 2 hours and then walk on home." They also share a book club, and many residents across the community join in. They get together about every 6 weeks and discuss a book together. "You don't even have to have read the book to come! You can just come and visit if you want to. We do discuss the book though. We'll send an email out a couple months in advance, so you have a chance to get the book at the library- that's what I like to do." 
But they aren't the only ones getting together. She knows of many other community gatherings such as a group of young families that grab dinner and walk to the Farm to visit while their kids play together. There are also some organized events like a 4th of July party (including a parade led by the children and pets of Rouzan with live music), blueberry picking days at the farm, a bonfire with s'mores, a Christmas performance by the symphony, and a big crowd for trick or treating. Plus, some impromptu festivities like cute painted sidewalks by the pool for Memorial Day. 
This kind of culture of communal living and gathering is key to what we try to create in our Bardwell communities. It's a joy to see it come to life in Rouzan, and it is obvious that it is integral in the lives of residents. We asked this client what it means to her to have this kind of community in her back yard. "The community has been so special because I'm not lonely here. It was God's way of getting us to move here so that I could be in this community. I can walk to a friend's house for dinner and walk back home. I see people from my porch or on theirs. We text each other to visit. It means a lot to me."
This is what we strive to create in our Bardwell communities. A Bardwell home is set apart because it is surrounded by a thoughtful and purposeful environment. We believe coming home should be the best part of your day. A sanctuary and holding place for the good in your life. Space to build relationships, engage with things you enjoy, experience meaningful moments, and be restored for the days ahead. It's the Bardwell difference.